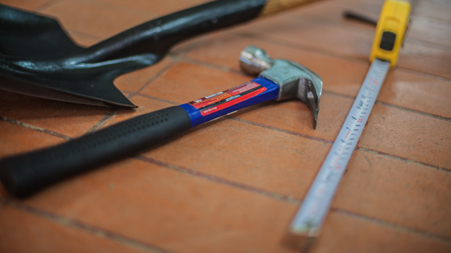 Small Tools
Small tools are essential as Community Partners teams and local community members work side by side to complete a project at a village school. Buy a small tool such as a hammer, shovel or tape measure and help make sure these hard working teams have the hand tools they need to get the job done!
What is an Honor Card?
When you give a catalog gift in honor of your friend or family member, you will receive a downloadable, custom Honor Card in 2-3 business days. You can either forward it or print it out to give to them.
Where do my donations go?
All contributions designated for specific funds will be applied to those projects and to administering the gifts. We desire to be good stewards of your gift, and when we receive more contributions for a given fund than we can use, we apply those funds to meet similar pressing needs. Contributions are solicited with the understanding that PathLight International has control over the use of all donated funds.
Is my gift tax-deductible?
PathLight International, Tax ID 27-0583447, is a U.S. tax-exempt 501(c)(3) organization. Consistent with IRS guidelines, all donations are tax-deductible to the extent allowed by law.